Futuro Autopoiesis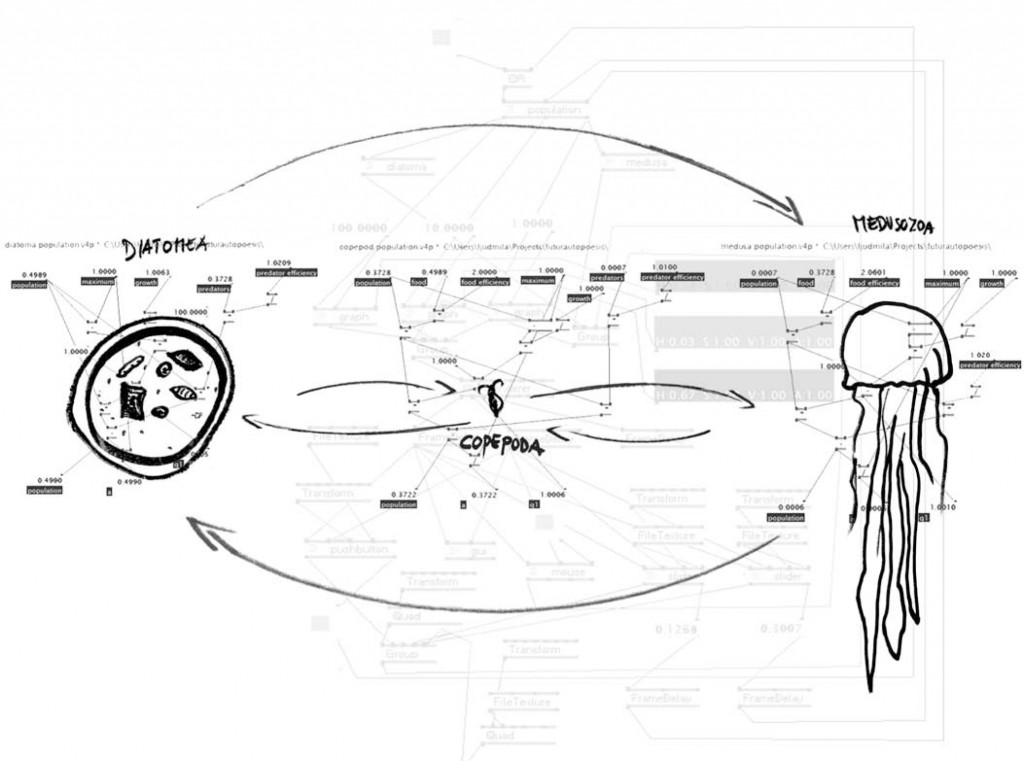 Futuro Autopoiesis touches various ecologic issues and focuses on the research of the structural contact between an organism as a closed system and its environment. It establishes a futurotopic auto-poetic environment, through which we can step into an interactive simulation of the possible future ecologic development and critically reflect upon our influence on the stability/instability of the ecosystem.
author, concept development and realization: Robertina Šebjanič
coding and realization: Žiga Kranjec and Luka Frelih
field consultants and advisors: Špela Petrič and Urban Belina
Special thanx to: dr. Alenka Malej (MBPP – Marine biology station Piran) for consulting, dr. Aleš Kladnik (Biotechnical faculty, University of Ljubljana) for micrography – video and photographies, dr.Valentina Turk (MBPP) – for micrography – photographies, Tihomir Makovec (MBPP) – for subaquatic videos of moon jellyfishes, Jani Forte (MBPP) for consulting and Saša Spačal.
Produced by: LJUDMILA, Ljubljana New Media Lab at KUD F. Prešeren, 2010
Project has been developed in collaboration with Marine biology station Piran and was funded by UNESCO Intergovernmental Oceanographic Commission Slovene National Commission, Ministry of Culture of Republic of Slovenia and City Council of Ljubljana.
more about the project here.
The project is supported by the Ministry of Culture of the Republic of Slovenia, the Municipality of Ljubljana and the Municipality of Celje.